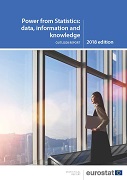 Power from statistics: data, information and knowledge — Outlook report
The 'Power from Statistics' initiative, jointly organised by Eurostat and the European Political Strategy Centre, aims to determine which topics will be relevant to decision makers and citizens in the future and how official statistics could best deliver information about them.
As a first step, five thematic Round Table events were organised. Gathering expert participants from various stakeholder groups, the Round Tables covered trends in migration, globalisation, new economic and business models, sustainable development as well as statistics, science and society.
The Round Table participants wrote altogether 28 articles. They contain their personal reflections and ideas on the future of European statistics. Together, the articles form the 'Power from Statistics Outlook Report'. [+]